Nestled in Burlington County, Marlton, New Jersey, is a wonderful place to live, work and visit. The township is a cozy sanctuary from nearby Philadelphia and Wilmington and offers all the best of South Jersey. From shopping to outdoor greenery, Marlton is just the place that you've been looking for.
Shopping and Entertainment
In Marlton, there are several late night spots for fun and entertainment. The Marlton Tavern is a must for late night music. AMC Marlton 8 is the best place to catch a movie in luxury and comfort, and all your shopping needs can be met at The Promenade at Sagemore. The Promenade is the perfect place to find a one of a kind gift, or just hang out.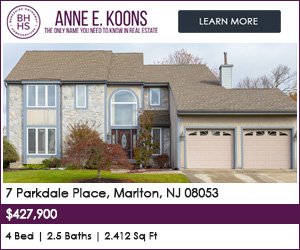 Local Eateries
From brunch to lunch, to romantic dinners, Marlton offers dozens of delicious eateries to choose from. For a scrumptious and sophisticated treat, Le Cafe Creperie offers sweet and savory crepes all day long. Or for a hearty all-American brunch head to Turning Point of Marlton, which offers fun and delectable favorites like "OMG" french toast, dolloped with pumpkin cinnamon mascarpone and many more tempting picks.
A great lunch can be found at the creative and delicious MOD Pizza, or grab a sandwich at Dad's Deli & Catering.
Likewise, a dinner trip to Fleming's Prime Steakhouse & Wine Bar or Redstone American Grill is a must for a juicy steak, and the authentic Greek cuisine at Estia Taverna is sure to please anyone in your party. Or sample the fresh hand rolled sushi from Sushi Kingdom or tantalizing Chinese from Joe's Peking Duck House. You'll soon find that many new family favorites will keep you coming back for meals to come.
MORE OF THE BEST TOWNS IN SOUTH JERSEY
Parks and Greenery
Getting outdoors in Marlton is easy with lots of accessible terrain nearby. Eisenhower Park offers lots of walkable wide open space as well as the Marlgreen tract and Baker Tract.
The seasonal Marlton Farmers Market runs from May to October and features the best produce from local farmers as well as unique specialty soaps, crafts, and gifts all made by local artisans.
Take your nine irons out for the day on Indian Spring Golf Course, a premier 18-hole course with lush and challenging greens.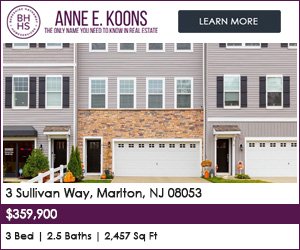 For the ultimate getaway, the nearby Jersey Shore makes for the perfect outdoor day trip. Even closer, Wharton State Forest offers miles of hiking trails as well as serene boating on the sprawling parks ponds, rivers and lakes.
Despite a small population, Marlton is a community with premier shopping, entertainment and restaurant destinations. The small town location is convenient to the downtown splendors of Philadelphia, easily accessible by bus route, and features homes perfect for raising a family of any size. The community features excellent schools and is close to some of the most renowned universities in the country. For a great place to live, there's nowhere better than Marlton.